At Thorpe Hesley Primary School we teach Spanish as a foreign language to children in KS2 using the iLanguages scheme. This is often supplemented by extra-curricular opportunities such as Spanish clubs, pen pal links and Spanish singing competitions such as Rothervision. Children at our school have a natural curiosity for other cultures and learning a language at our school provides an opening for children to explore this in a creative way and practical way.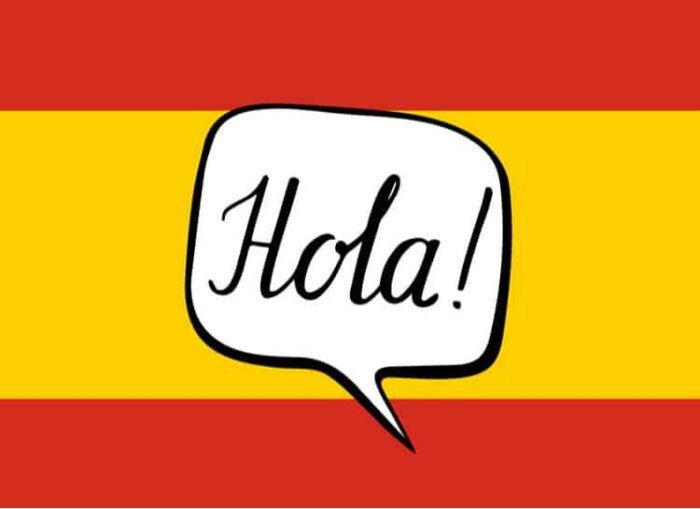 The aims of learning a modern foreign language at Thorpe Hesley Primary School are:
To inspire and motivate children to want to learn a language.
To introduce children to another language in a fun and enjoyable way.
To foster pupils' curiosity of the world and develop an appreciation of other cultures.
To speak with increased confidence in the target language improving their pronunciation and intonation.
To understand and respond to written and spoken language including a variety of authentic and interactive resources.
To write in varying length using the grammatical structures taught.
To provide opportunities for children to communicate for practical purposes.
Spanish at THPS
Our Spanish Curriculum
Click below to view our Spanish Progression Document, Long Term Plan and Subject Policy for this academic year.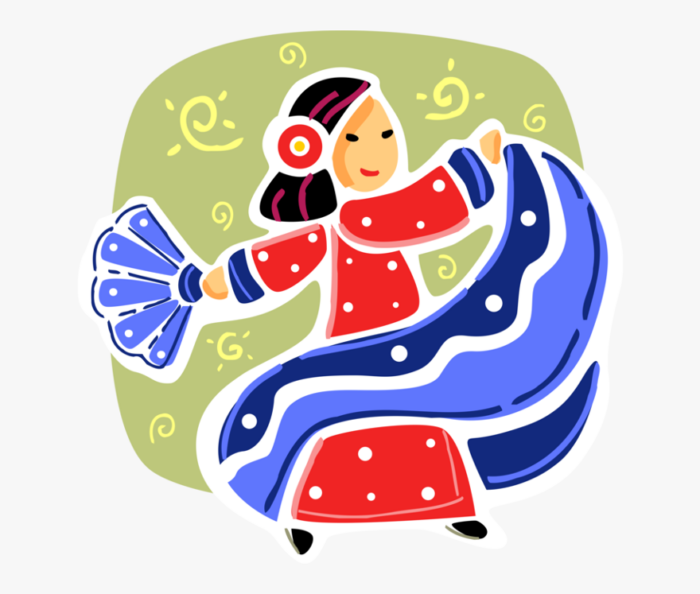 The Languages National Curriculum
Learning a foreign language is a liberation from insularity and provides an opening to other cultures. A high-quality languages education should foster pupils' curiosity and deepen their understanding of the world. The teaching should enable pupils to express their ideas and thoughts in another language and to understand and respond to its speakers, both in speech and in writing. It should also provide opportunities for them to communicate for practical purposes, learn new ways of thinking and read great literature in the original language. Language teaching should provide the foundation for learning further languages, equipping pupils to study and work in other countries.
The National Curriculum for Languages aims to ensure that all pupils:
Understand and respond to spoken and written language from a variety of authentic sources
Speak with increasing confidence, fluency and spontaneity, finding ways of communicating what they want to say, including through discussion and asking questions, and continually improving the accuracy of their pronunciation and intonation
Can write at varying length, for different purposes and audiences, using the variety of grammatical structures that they have learnt
Discover and develop an appreciation of a range of writing in the language studied.
Fun and Fiestas at THPS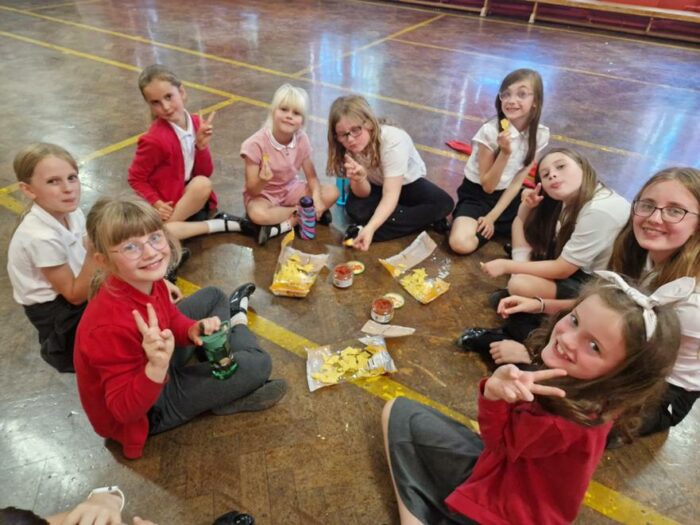 Thorpe Hesley's Got The 'S Factor'!
July 2023
Mrs Caborn's Spanish Singing Club was a huge hit this year! We learned the classic Spanish song 'La Bamba' by Ritchie Valens and paired it with a modern twist. After weeks of hard work, they finally showcased their performance to a crowd of parents and children at hometime!
Check it out…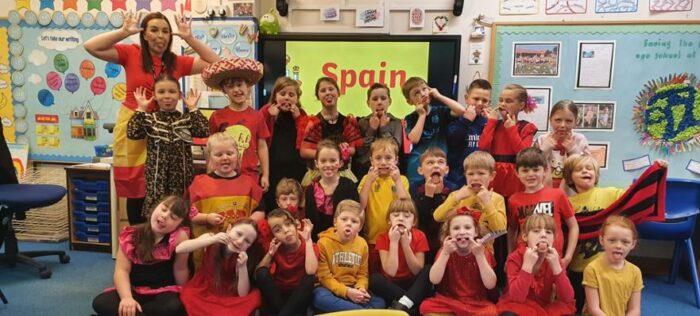 Spanish Fiesta Day – Thursday 13th January 2022
To celebrate the launch of Spanish as a foreign language in our school, we held our own 'Fiesta Day' on Thursday 13th January 2022. Our staff and children came dressed in the colours of the Spanish flag, in flamenco and matador outfits and Spanish football kits – they all looked incredible!
We did lots of exciting activities such as flamenco dancing, Spanish food tasting, Art inspired by famous Spanish artists, fact file writing, Spanish cooking and learning lots of Spanish songs and phrases throughout the day. We also took part in Señorita Saunby'swhole school Spanish dance-off to compete for a special prize.
It was an incredible day enjoyed by all!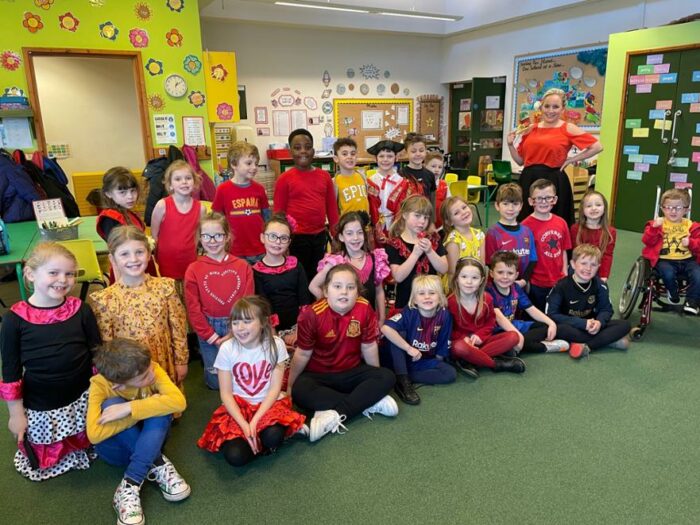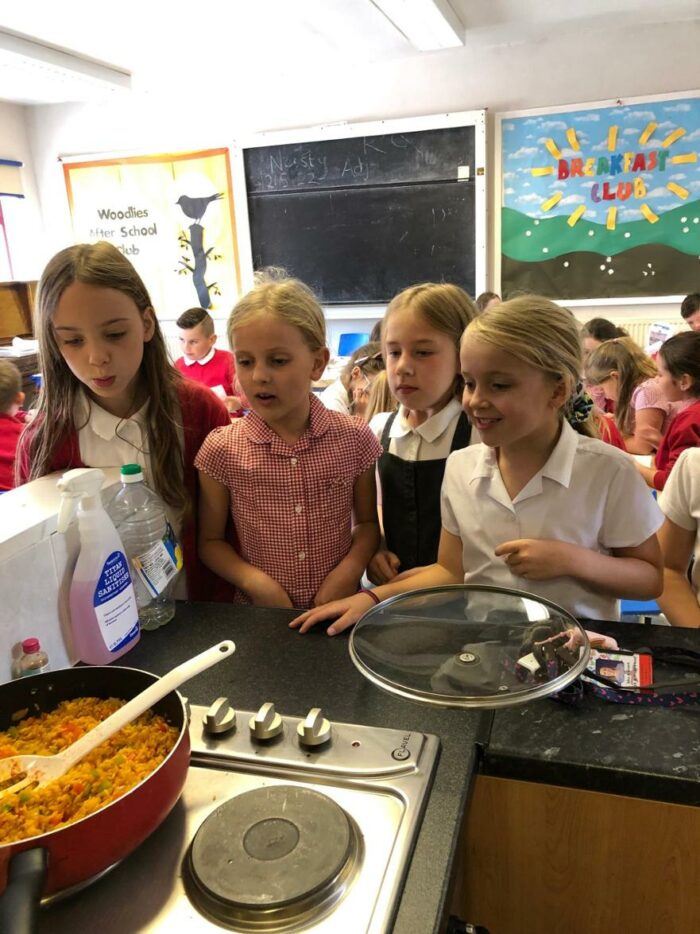 Year 3 Paella Making – July 2022
The Y3 children had a fabulous afternoon making vegetable paella for their end of year Spanish treat from Mrs Grant. They chopped their own vegetables and added spices to get the authentic Spanish flavours.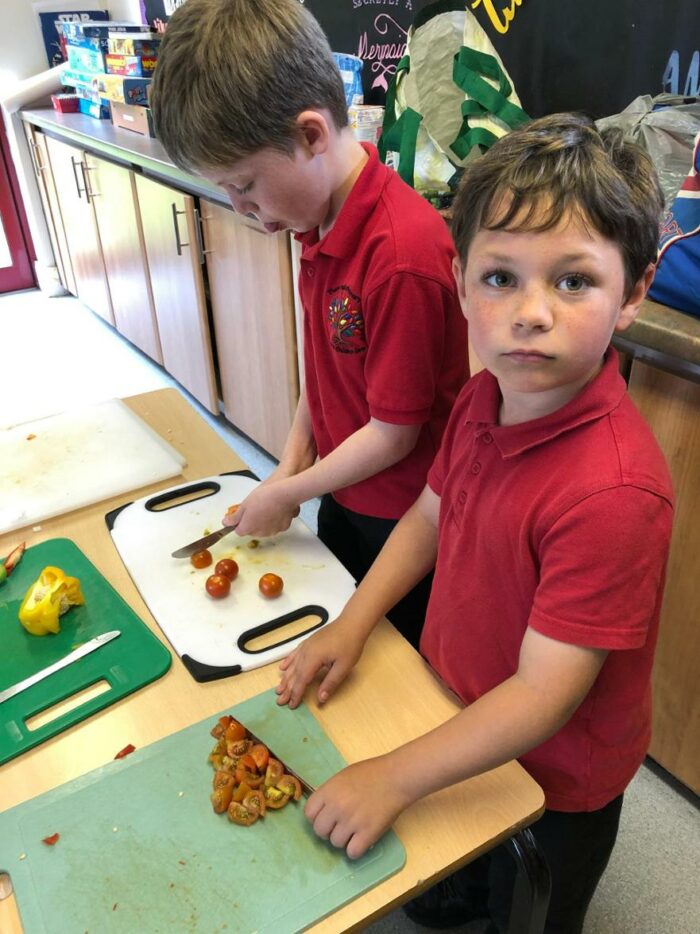 Spanish Stories and Games
Here are a few stories and games you can use at home to recap your Spanish knowledge. There are also lots of language apps you can download on your devices such as iLanguages, Duolingo, Babbel and LingoPie to help you practise your reading, writing, speaking and listening.