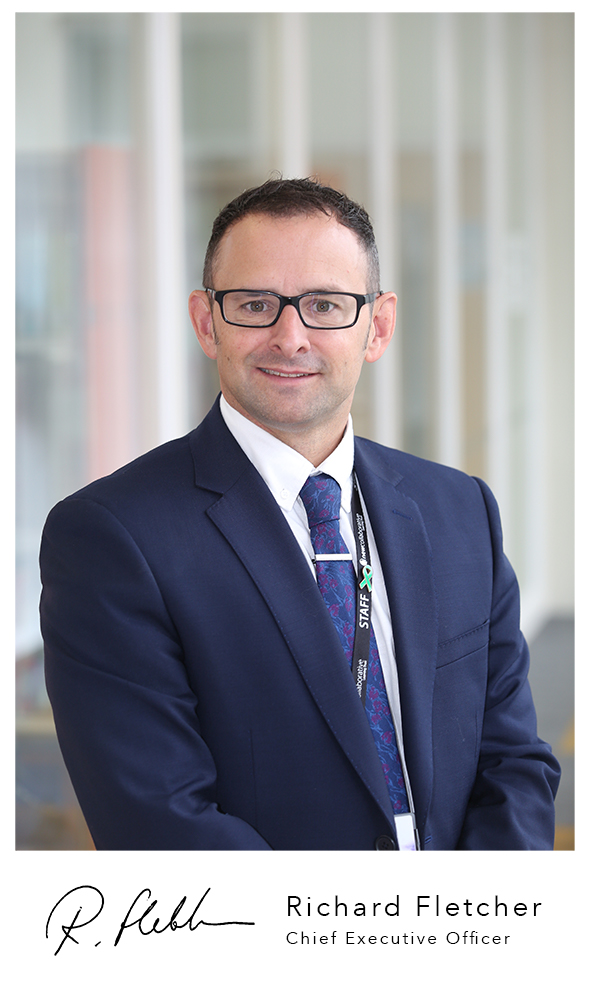 Hello everyone
My name is Richard Fletcher and I'm the CEO of the New Collaborative Learning Trust. My job involves working with Trust Leaders and Directors, to set the vision and values for the Trust, agree its strategic priorities, along with building a culture where each College/Academy sees itself as being part of something bigger. This is how we strategically fulfil our expectation that every young person in the Trust matters.
On a day to day basis I work with the Principals and senior staff in each of the Trust's 3 Colleges: New College Pontefract, New College Doncaster and New College Bradford and in our Secondary School, Wingfield Academy in Rotherham.
One of the reasons why we formed the Trust 6 years ago, was to share the successful educational model established at Pontefract. This journey has now taken us to the communities of Doncaster, Bradford and Rotherham, in the heart of Yorkshire. We genuinely believe in the power and influence of education and everything we do centres around our students receiving a first-class education and student experience.
We want to make a significant difference to the lives of young people and ultimately make a positive contribution to social mobility. We also believe that working in a Multi-Academy Trust significantly benefits all of our students and staff, and enables us to achieve the goals we set ourselves each year.
I'm proud to say that we are a successful Trust, because we ensure our students are taught by the very best teachers. Our educational model is distinctive, evidence-based and proven to work.
In all four of our institutions, student outcomes remain a priority, as achieving outstanding results will open doors in the future and allow our students to progress to their preferred destinations. The question we have asked ourselves many times over the years is 'Are strong outcomes enough?' and the answer is simply no! This is why the Trust's strategic plan for the next 3 years states that we must establish a moral balance between pursuing outstanding outcomes and developing our students both personally and socially. This is why we offer many experiences in and outside of the classroom. We hope every young person will benefit from achieving academic success whilst at the same time, developing as a well-rounded individual, ready to contribute positively to society.
The ultimate aim is that students leave our Colleges and Academy exceeding expectations, building the necessary skills and progressing to their next phase of education or meaningful employment. Because our Trust is committed to collaboration, our teachers regularly share good practice and work together to ensure our students are in a strong position to compete against the highest performing students in the country. We strongly believe that no young persons' future should be determined by the circumstances into which they are born.
To finish, I feel it's important to outline the Trust's Teaching for Learning vision, as this is what really underpins our culture.
With this, we aim to:
Equip every student with the knowledge, skills and behaviours necessary to achieve outstanding outcomes.
Build a deep understanding and common language around how we learn.
Bring together the best available evidence around memory and learning, in a coherent set of actionable principles.
Foster a culture of continuous improvement in which it is every teachers' obligation to improve their practice.
Provide personalised, evidence-informed CPD, to focus the development of teachers on aspects of their practice that will have the greatest impact on their students.


Thank you for reading and please feel free to browse our website or visit any of our 4 institutions' websites within the Trust to gain more information.